Careers
A place to be the best version of yourself, every day.
We exist to drive competitive advantage for our clients, every day.
We do this by helping organisations, leaders and individuals around the world deliver engaging experiences for their clients' brands, customers, users and employees.
We believe it's engaging experiences that sow the seeds of loyalty. They create meaningful connections. And help people be the best versions of themselves.

When you join the GrowthOps group, we will support you to be the best version of yourself, every day. Personally and professionally.
We work with curious, committed and connected people to deliver engaging experiences for our clients.
Our Values
We are founded on the belief we can do things better. That same entrepreneurial DNA courses through the company, today. It helps us be the best versions of ourselves. And helps us enable our clients to achieve the same.
We are curious, committed and connected.
Curious
We are always curious about new frontiers and fresh possibilities.
Risky questions have rewarding answers. Always learning, unlearning and reinventing.
Committed
We are committed to each other, our work and our clients.
Nurture what matters. Be accountable, always.
Connected
We are connected to the world through technology and community.
Be considerate and inclusive. Be agile and grounded.
Our Benefits
At GrowthOps, when we say we put our people first, we mean it.
We strive to provide work that's rewarding, innovative, creative and impactful, that gives you an opportunity to be your best self.
But we understand our people are more than employees and, especially after the last couple of years, it takes much, much more to be our best selves.
So, we also provide a range of benefits to fuel your personal and professional growth, foster balance, nurture your wellbeing, and build your connection to community.

Growth Mindset: your professional and career development
Growth is important to us at GrowthOps (it's in the name!) so we provide a learning program tailored for every individual, whether you're a new starter or seasoned leader, as well as other benefits to fuel your personal and professional development.
GO Academy learning program
Employees have access to the GrowthOps Academy, where you can book yourself into a range of workshops including communication, leadership, wellbeing (including physical, emotional and financial wellbeing) and role specific topics, such as Account Management Essentials and Marketing Mega-Trends, hosted by our very own experts.
If you need to undertake certification or study that will benefit you and your role, you can access up to five days of study leave and exam leave.
Professional development allowance
You will also receive an annual allowance to put towards professional development of your choice. Some team members use this on specialist magazine subscriptions, others use it for online learning platforms or courses. The choice is yours!
Professional membership allowance
If your role or profession requires a professional membership (CPA for example), we provide an allowance towards that.

People first: your life and roles outside work
With award winning Diversity, Equity and Inclusion Strategies, we know you are more than your role at work so we provide great policies and initiatives to help you be at your best in every aspect of your life.
Flexible working + allowances
Our Radically Flexy Policy allows staff to choose when and where they work. Working around our core collaboration hours, you can choose to start the day earlier or later depending on how you prefer to work, and your family responsibilities or personal wellbeing.
You can also work for up to 60 days from anywhere in the world. Want to extend that visit to family? No problem! And finally, you are welcome to visit and work from any of our offices across the APAC region. You will also receive financial allowances designed to support working from home.
We love growth and that includes growth of your family! For primary carers, we provide up to 14 weeks paid leave and for secondary carers we provide up to two weeks paid leave, all of which can be taken at half pay to extend your time with your new addition.
And because we understand that life doesn't always go to plan, we also provide paid leave for loss. If you or your partner suffer a miscarriage, you can access leave for loss to take the time you need before returning to work.
No-one wants to work on their birthday, so you will always get your special day off to celebrate you!!
We are passionate about our connection to community. You will get one volunteer/community day off per year to work with charities and causes that are important to you. Staying connected to the communities we live in means we can make a contribution to the causes that mean the most to us.
Employee network groups, including: GOWell; GOWomen; GOMummies: and LGBTQI@GO
Women at GrowthOps: Women supporting, encouraging and empowering women through connection, collaboration, mentorship and discussion to create a culture in which all female identifying employees can grow, thrive and succeed.
LGBTQI at GrowthOps: provides a community where LGBTQI staff can meet, share, support, and encourage one another.
Wellbeing at GrowthOps: drives honest, open conversations about mental health and wellbeing matters to ensure our people are supported to thrive at GrowthOps.
Environmental Sustainability at GrowthOps: drives honest and open conversations about our environmental impact, suggesting new ways to lessen that impact through real and tangible action.
GOMummies: Mum's supporting mums through advice, support, humour and connection.

Strong Foundations: your health and wellbeing
GrowthOps is committed to prioritising and investing in the wellbeing and mental health of our people. We're signatories to the Mentally Healthy Standards and the #MentalHealthPledge, and we provide a range of wellbeing initiatives to ensure you are supported through whatever life brings.
Team members in Asia will have access to fantastic health insurance benefits. Check in with your recruiter for the details for your region.
Our team in AU/NZ receive an annual wellbeing allowance, which can be used for things like running shoes, gym fees or a massage.
Through a partnership with Intellect, all employees have access to their own personal wellbeing coach. Using the Intellect App, you will also have access to great wellbeing resources to support you in your everyday life.
All employees get an additional two days of wellbeing leave per year. We encourage our team members to use the day to get out in nature, taking time away from the computer, socials and internet and to then share how they have used their time with the rest of the team.
Can't see a suitable role?
Join our Talent Community today. You'll become part of our global talent pool and we'll review your details each time a suitable role becomes available.
We are a Circle Back Initiative Employer – we commit to respond to every applicant.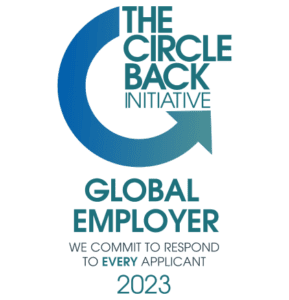 Finalist for Best Careers Website, Internal Talent Awards 2023
Winner of Best Diversity & Inclusion Strategies, HR Star Awards 2023